Alright peoples! I finally scored a copy of Photoshop for Mac (take THAT Calvin!), so I put it to use right away to make you guys a new playlist. If you'll remember, I was lamenting a while back as to how I'm sick of being laughed at when I put on Marvin gaye to set the mood. So I went on a painstaking search to find the sexiest music out there. I'm sorry Ryan, but Hed Kandi is crap. It does not set the mood for love but rather the mood for sketched-out E-tards coming down off of whatever high they're on. Not sexy.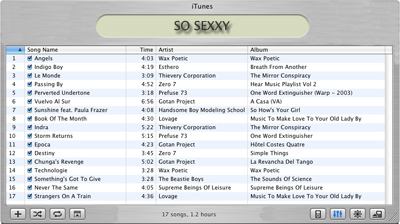 The Beastie Boys might be a bit risky, as is the Lovage, for different reasons. It's certainly not for the prudish, that's for sure. If you don't currently have somebody to enjoy this playlist with, then I'd suggest that you either find somebody, or just enjoy it yourself. but not in the way that you're thinking, you dirty, dirty people.


Which File Extension are You?
Heh, I love .swf's! They're without a doubt my favorite file extension. How fitting, and yet insulting.