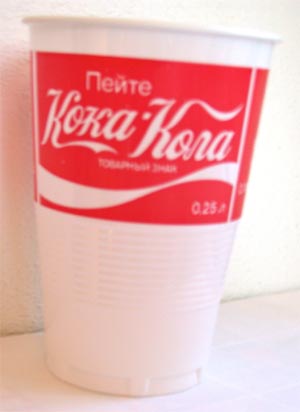 A speciar drink if you're feering ronery. Actually, it's Russian, not Korean, but I figured that some people would get a kick out of it anyway.
Pretty much the very minute that I posted the latest playlist, I had regrets. It occured to me that I was missing Morcheeba, Ladytron and other deserving finalists for the list, while at the same time using the same artist for two songs in some cases. My next playlist will not dissapoint though, that I can guarentee. Look for it sometime next week.
Jeff Rowland has a new comic, and I dare say it's some of his funniest work to date.
Overcompensating
is the story of Jeff's day-to-day life, as only he can tell it. It's new, so it won't take more than 5 minutes to read them all. Do it!
What's the coolest trailer on the net these days? It's none other than
The House of Flying Daggers
, no doubt the rowdiest of all the frat houses. This promises all the the action of Hero and Crouching Tiger, with 2000% more knife-throwing. I love it already. I can imagine these guys cleaning up after a battle: "Is that my knife? Where's my knife? I know I threw it around here somewhere...."