I Bought Some Big Boy Shoes Today
I've gotta say, this has been a pretty rad birthday. Mostly due to you guys. Open Sesame was great as always, and Viscious Circle was fun fun times. I was having a problem finding martinis that sounded manly enough that I wouldn't be embarrased to order them, yet tasty enough that I wouldn't gag in front of a girl. I think that if last night is any indication, the most important thing to keep in mind when trying to not embarrass myself over martinis is to only have one or two. Twelve, or however many I slugged back, is far to many. So there's that.
I still need to get to Megatunes to use my brother's gift certificate, but that hasn't stopped me from buying albums with birthday money. I've embraced my feminine side and purchaseed Esthero's
Wikked Lil' Grrrls
, and it's awesome. The production values blew me away, and I don't think I mind the spoken word stuff as much as Ryan did. Like Esthero herself, this is one hella sexy album.
I also picked up the new Buck 65,
Secret House Against The World
, which is weirder than anything else he's ever put out. I think it's the hip-hop album that Johnny Cash never made. I'm digging it more with each additional listen.
Also new are two Clash-esque brit rock bands I picked up, and I am enjoying thoroughly. Maximo Park's
A Certain Trigger
, and The Dead 60's self titled are interesting takes on the Clash sound. Maximo sounds more like a combination of Joe Strummer/company and Bloc Party, where The Dead 60's rock the casbah with the tones of The Futureheads, minus the four-part harmonies which I find so delicious.
Had I bought these albums earlier, I would have likely used tracks from them on my greatest rock mix ever. Kyle and Fat Mike were lucky enough to recieve copies over dinner last night, but I thought I might share it's contents with the rest of you. I really am proud of this mix.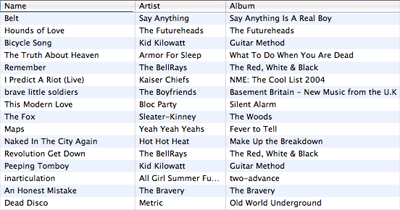 Third from the bottom is The All Girl Summer Fun Band. Their name is far too long. They're going to have to fix that. Anyways, I just want to thank everybody for making my birthday such a great one, and I'll see you guys later.