Been Gone So Long
My prolonged absence is inexcusable, I know. I'd like to think that I've been busy. Not only have I been trying to make Chelsea the perfect Christmas present while at the same time avoiding buying gifts for everybody else, I've also taken up knitting, and have been to several interesting parties. This is my life, and sometimes blogging takes a backseat. To make it up to you, I'd like to give you guys something that I think should spark interesting debate: The Best of 2005 Music List! I've catergorized my favorites of this year, and will be trying to present them in a somewhat humorous and informative manner. Be warned though, this isn't the Grammies, so don't expect one single artist or album to dominate every catergory. That's dumb and boring, and can be left for Sting and Norah Jones.
So without any further ado, I present to you my first award given for the best EP. Their were a fair amount of entries into this catergory, but choosing the winners was hardly difficult.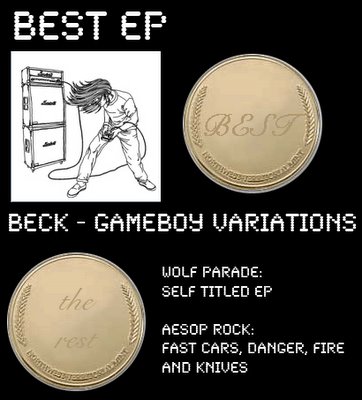 God, it was almost criminal how much better the remixes to Hell Yes and Girl were to to the full album versions. You can tell that some real geek pride went into this recording. Catchy as all hell, and a pretty original record to boot.

If there was any opposing competition, Wolf Parade would make a great winner for a Most Hype award. The blogosphere nearly exploded with anticipation for their full record after the EP dropped. I'm not quite sure that it was all worth it, but the EP certainly showed promise for what was heralded to be the Arcade Fire of 2005. It's almost scary to think how quickly Montreal became the new Seattle in the indie rock world.

I chose Aesop Rock's EP for the curious fact that it wasn't actually followed up by a full album, being that it was pretty full on it's own. As far as the abstract underground is concerned, this record kicks ass, and Aesop takes no prisoners. Def Jux keeps turning out winners, and I can't wait to see what's next.