Normally adding the Best Remixed Song catergory right after Best Remix Album would be splitting hairs, but there's been too many remixed singles released to ignore. So lets do this thing!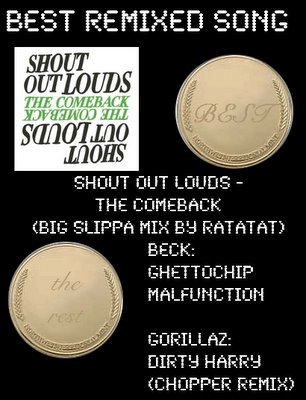 Ratatat is just rad. They've got this unique sound, like if Dr Dre remixed a Guns n' Roses track using a Super Nintendo. They bring an entirely new energy to the Shout Out Louds, and it works. Synth guitars 4-evah!
Just dig right in to this meaty piece of nerd-rock from Beck and groove on it. 8-Bit surpasses the original material with a simplicity of layered sounds, which I think actually
were
taken from a Super Nintendo. The only reason it didn't win was because it had to be featured in
The OC's
"Beckisode".
Holy shit, but the Chopper Remix for Dirty Harry almost
recquires
you to speed in your car while listening to it. Fuzz guitars and and cow bells kick my ass.
Hey, stay tuned for tomorrow. I'll have a really great award to give out, hopefully worth a chuckle.