There's still 5 minutes left...
I hope that your holiday celebrations were as good as mine. In terms of commercial success, I got everything I asked for and more, and I was able to not screw up and get people stuff that sucked. The joy of giving/getting was equally proportional, which is a rarity for this holiday. One gift really stood out from the crowd though, and I thought I'd share it with you guys.
I have no idea how long she spent on it, but Chelsea painted my portrait in a negative-space pop-art style, that is basically too cool for words. I mean, just check it out for yourself: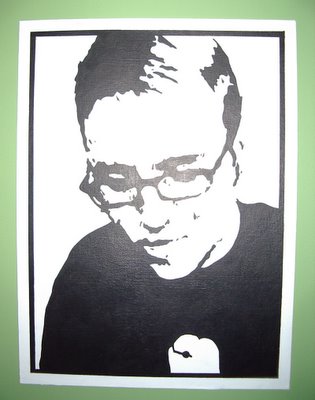 God, I love her. You can see more pictures of it on my
Flickr Account
, along with some other comparitively trite garbage.
So to conclude in the words of Adam: Merry Christmas, bitches. Merry Christmas bitches,
everyone
.