We're going to go on a little deviation here, and introduce a fun little catergory for this years Best List. I hope you have a laugh.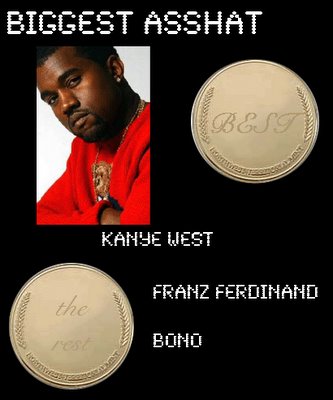 For one minute, let's ignore Kanye's political statements, and focus mainly on his ego. What needs to happen is someone has to tell him that being able to operate a keyboard and an 808 does not make him god. The fact is Kanye, you have so many friends that are cooler than you. Talib Kweli? Cooler than you, Kanye. Common, and John Legend? Cooler than you. Stick to producing, stop trying to rap.
God, I am so sick of Franz Ferdinand. Because (thankfully) very few bands stepped in the ring to occupy the "kitsch rock" genre created by them, they had to fill the vaccuum with their second LP in as many years. I find the very situation insulting, and the album wasn't that much better. Somebody should just paint their portrait so it can be ironically vandalized in some stupid trend-whore gallery and be done with it. Thank you, Franz Ferdinand. Thank you for showing us that skinny ties are the new trucker hats.
Fuck you Bono.